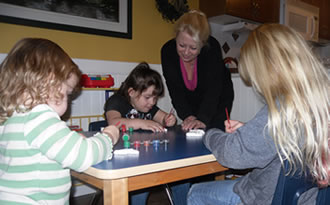 The Initial Assessment for ABA
The purpose of the initial assessment is to determine your child's baseline skill level in the areas of receptive and expressive language, social skills, play skills and adaptive functioning. The assessment is also designed to identify any challenging behaviours which interfere with your child's learning. Of utmost importance is the identification of effective reinforcers given to your child that will motivate your child while working with the ABA programming. ABA programs must also include the skilful art of differential reinforcement.
Once this information has been collected and analyzed an Individual Behavioural Plan is developed which outlines your child's baseline skills and immediate goals in programming.
Following the approval of the child's Individual Behavioural Plan, I will provide the family with a program binder that details the child's programs to be initially worked upon. Once the Instructor has been hired by the family, I will schedule an initial home-visit at which time the program goals will be reviewed. At the first in-home appointment a regular schedule for program supervision will be set with the family and which is in keeping with the contract requirements.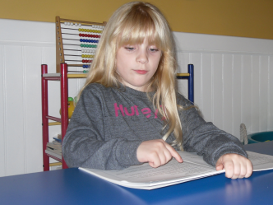 What Can Families Expect
Behaviour analysis is a set of principles and practices. There is a wide range of variation across programs regarding the application of those principles. I work together with the family to develop an individualized program to meet their child's needs. Applied Behavioural Analysis is empirical in nature. All goals and strategies developed are based in assessment. The child's progress towards those goals is carefully monitored through the ongoing collection of data.
All children have the right to effective intervention. Some of the strategies used to insure effective intervention include, but are not limited to
Providing choice when and where possible.
Providing a happy / upbeat, calm and predictable environment in which to learn.
Providing the opportunity to interact with other children.
Providing individually determined incentives for task completion.
Providing routine and structure while aiming towards helping the child accept changes and transitions.
Providing individually pre-determined contingencies for both appropriate and inappropriate behaviours.
Developing goals and programs based on individualized assessment.
Providing consistent and close monitoring of the behavioural data in order to make timely and meaningful changes to the child's program as needed.
Using teaching strategies based on the most current behaviour analytic research.
Parents are actively involved in all aspects of their child's programming and OAP Behaviour Plan.
Read More Testimonials
I have been working as an instructor therapist under Mary's supervision for two and a half years. I have worked with Mary in both home based and center based IBI programs. In both environments Mary has been an incredible person to work with.
From an instructor therapist point of view, Mary has all the qualities, plus more, needed in a senior therapist. Not only is Mary a very compassionate person, she is also very lovely to be around. Mary always ensures that programs are appropriate for each individuals needs and also keeps programs moving at a speed suitable for each learner.
Mary's professionalism is outstanding. During follow-ups I was always guaranteed to receive the correct materials/programs. The progress both parents and myself have seen from her guidance is phenomenal. In between follow-ups she is very responsive through email which has always been a tremendous help. Parents and children also always look forward to seeing Mary.
It is without a doubt that Mary MacNaull's incredible insight, one of a kind work ethic and fantastic interpersonal skills will make her a great asset to any IBI team.